Dead Cat Ranch has something for everyone
Finding the perfect vacation destination can be a struggle, especially when traveling with family. From hiking to horseback riding to just relaxing by the pool, everyone wants to do their own thing. You need a place where you can do it all.  At Dead Cat Ranch, we cater to everyone ensuring your perfect family getaway in East Texas!
Make the most of your stay
Every family wants something different out of their vacation, and that even goes for units within the family. 
Whether you're just taking your immediate family members out for a long weekend, or you're planning a long-overdue reunion, Dead Cat Ranch is your ideal family vacation spot. Our variety of lodging options are perfect to cater to whatever size group you're bringing, and we offer a variety of activities that ensure everyone in your party has something to do. Not to mention our secluded atmosphere, which helps you reconnect with your loved ones without the distractions of everyday life.
Bunkhouse
Our Bunkhouse is built to host families of all sizes! It comes with 2 private bedrooms that both include queen-sized beds, as well as 2 large rooms with bunk beds and another with twin-sized beds. There's enough sleeping space to comfortably fit up to 20 people, but it's also a good spacious option for smaller families who want to enjoy some privacy.
Guests: Up to 20
Amenities: 2 private bedrooms with queen bed and 2 full baths (three showers), large kitchen and entertainment area, game room
Relax
Spend a lazy day soaking in the East Texas scenery at Dead Cat Ranch. Take a ride around our ranch on horseback and enjoy the early morning stillness, cast a line in our pond, spend your day cooling off in the pool, or swing the sunlight away in a hammock. Relax however you see fit.
Play
If you're looking for a bit more adventure, Dead Cat Ranch has you covered. Take one of our ATVs for a spin around our extensive ranch trails, participate in archery and hatchet throwing competitions, or learn a new skill with our on-site firearms training.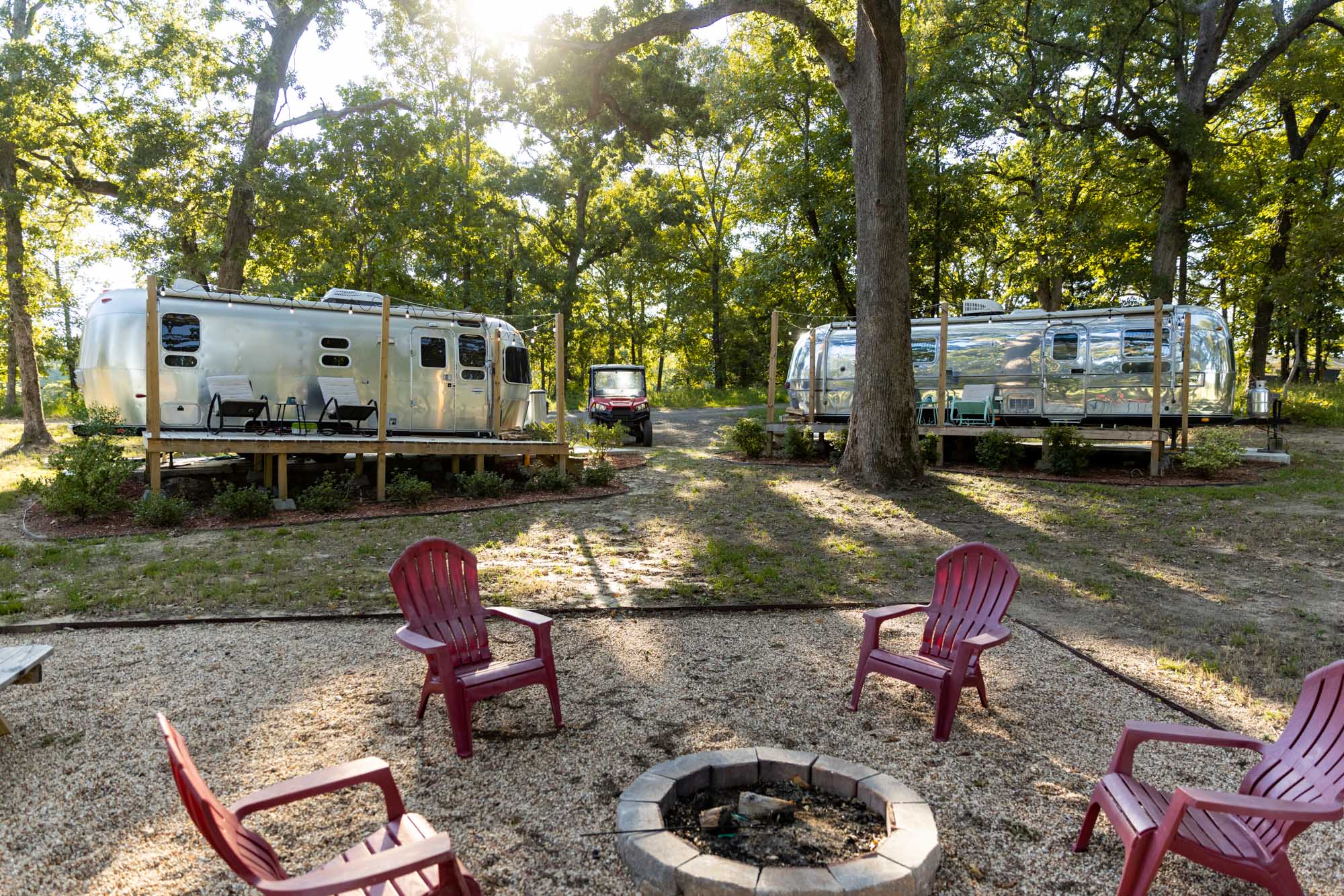 Stay
We've got housing amenities for everyone at Dead Cat Ranch. Whether you fantasize about traveling around the country with an Airstream and want to experience that life for yourself, you have a large family or gathering in need of many bedding options, or you're looking for the perfect honeymoon East Texas Hideaway, we have you covered.
Frequently Asked Questions
You can check-in at any time between 3 p.m. and 10 p.m.
Check-out is at 11 a.m.
Of course, our ranch is BYOB. Everything in moderation, though. Have fun but stay safe, make smart decisions, and drink responsibly.
Absolutely! Palestine, Texas, is home to plenty of fun things to do in and around the city for a day excursion. Here is a list of a few of our favorites:
New York, TX Zipline
The Polar Express Train Ride on the Texas State Railroad
Dogwood Trails Celebration
TahWahKaro Distilling Company
Pine Dunes Resort & Golf Club
Lake Palestine (jet skis & boats for rent)
Oh My Goat Yoga
Texas Jail House
Curious Museum
Texas Theatre
Palestine Main Street
Alligator Gar Fishing or Hog Hunts with Bubba Bedre